Woodshield
Growing Vines to Make Wines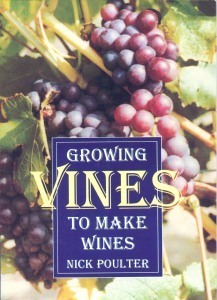 Woodshield
Growing Vines to Make Wines (

6331

)
by Nick Poulter - Following his conversion from elderberry to the grape thirty years ago. Nick Poulter and his business partner began planting a commercial vineyard at Cranmore on the Isle of Wight. By 1984 the vineyard was producing 15,00 th 20,000 bottles a year and associated vine nursery around 30,000 plants. The vineyard was sold at that time but the nursery continued until 1996.
When the first vines were planted at Cranmore there was only a dozen or so vineyards in England, but now that number has multiplied a hundred fold. In the pioneering days of 1960s there were no exact parallels on the Continent or elsewhere and every English vine grower learned the art by hard experience. This book, a fully updated amalgamation of two previously published popular titles, Growing Vines and Wines from your Vines, is based on that experience and sets out all the author would have liked to known when he began himself. It is concise, yet detailed, and covers all aspects from planting the vines, through cropping and vinification to enjoying the final product!
The quality of English wine is constantly improving and this book will help the amateur to produce high-quality wine from home-grown grapes providing the right varieties are used and simple rules followed.
See full listing
More Products:
---